History of the Sheriff's Office and Jail
Material for this post comes from the Encyclopedia of Arkansas (https://encyclopediaofarkansas.net/) and from the old Logan County Historical Society's Wagon Wheels magazine, Spring 1992, Vol. 12, No. 1 & 2.
Logan County was created on March 22, 1871, and was first named Sarber County. The county seat was established at a small community called Anderson located in the Red Bench area between what is now Paris and Mt. Magazine. James Lambert Garner was appointed as the first Sheriff and was subsequently elected to the position. He was a settler who lived in the Red Bench area and was a veteran of the Mexican-American War and the Civil War. The first county jail was built in Anderson near a small frame courthouse and the jail was a small log building. The county seat only remained at Anderson for one year and was moved to the community of Ellsworth which is east of what is now Subiaco. A small frame courthouse was built in Ellsworth but not a jail. There was so much fighting over the location of the county seat at Ellsworth that a vote was held and Paris was voted in as the permanent county seat in 1874.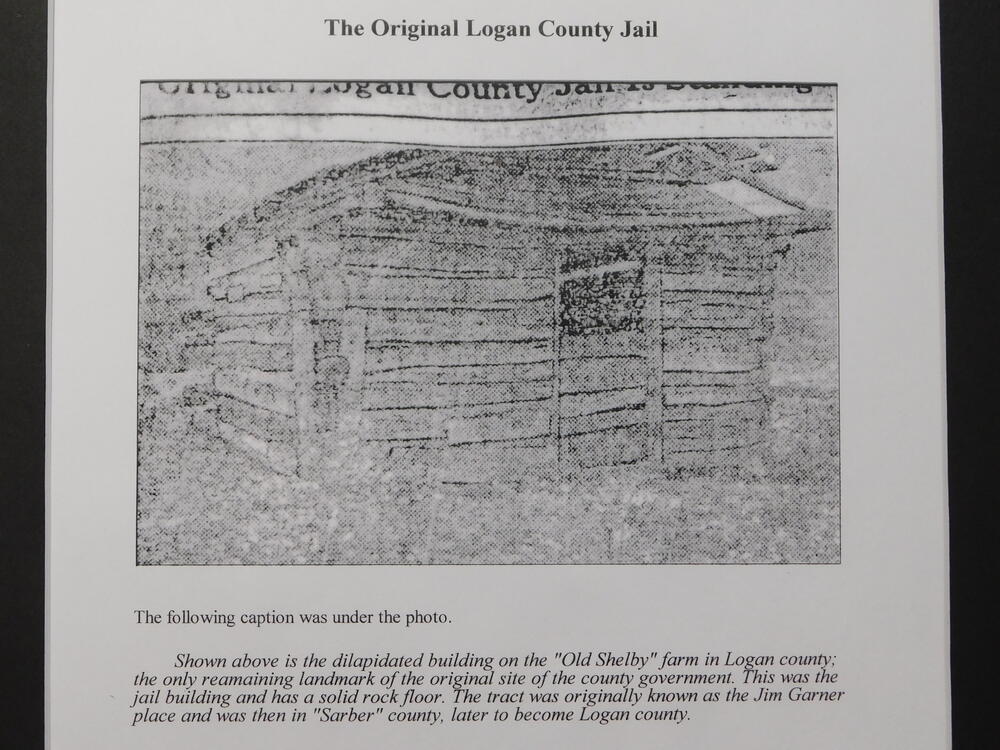 A photo of the first Logan County Jail which was built in the community of Anderson in the Red Bench area. The building was still standing in the 1930s when this photo was taken.
Sheriffs: James L. Garner, 1871-1874 and Albert S. Cabell, 1874-1880 (first time).
After the election in 1874, a one-story courthouse and a log jail were built near Short Mountain and the town of Paris grew up around them. In 1875, the state legislature changed the name of our county to Logan County in honor of James Logan, an early settler and member of both the territorial and first state legislatures.
Sheriffs: William C. McCubbin, 1880-1882; D. W. Haskins, 1882 (appointed); J.P. Grady, 1882-1884; and Albert S. Cabell, 1884-1886 (second time).
By 1882, the log-built county jail in Paris had fallen into disrepair and it was patched up over the next couple of years. According to an article in the newspaper, this jail was referred to as "the dungeon" and needed to be replaced. In 1886, Sheriff J.P. Grady oversaw the construction of a new county jail in Paris and it was a two-story, stone building located north of the square. It would be the third county jail and was in use for more than 17 years.
Sheriffs: Richard Garner (James' son), 1886-1888 and Oliver Clark Wood, 1888-1892.
There is an interesting story regarding Sheriff Oliver Wood and a huge snake in the Roseville area called "Ole Sam". This snake lived in the McLain Bottoms and rumors had it that the snake escaped from the Clark Bros. Circus when they came to Roseville, which was a thriving Arkansas River port town in those days. When the circus crossed Wirskey Ford at Mountain Creek, a circus wagon overturned and the crate carrying a big snake broke loose. The next spring, a large snake was seen by Sam Webb in a cotton field and he told the story so many times that the locals called the snake "Ole Sam". The snake was sighted several more times including by a teacher and students at the Sandy Schoolhouse and they smashed glass windows to escape. Fear gripped the area and people were moving out so a meeting was held at the Roseville General Store and Sheriff Wood formed a posse and hunted the snake. Some of the posse members found the snake past the Chism plantation on Deep Bayou, fired their guns multiple times at it, and it sank to the bottom and was never seen again. This story was found in the Spring 1992 edition of the Logan County Historical Society's Wagon Wheels magazine, Vol. 12, No. 1. Sheriff Wood built a nice house in Paris and it still stands today at 719 Wood Street (named after him) near the Paris Middle School.
Sheriff: William "Bill" Roady, 1892-1896.
Sheriff Bill Roady lived in the Blaine community near Shoal Creek in eastern Logan County (this was before the New Blaine community was named). He helped promote and save the Logan County Fair Association and he recommended that the town of Paris purchase the fairgrounds location that is now the location of Veteran's Park, the swimming pool, and the rodeo. He was a successful business man in Blaine and he owned and built the old bank building that still stands.
Sheriffs: George G. Dandridge, 1896-1900 (first time) and Joshua A. Ashinhurst, 1900-1902.
In 1901, the Arkansas state legislature passed a law splitting Logan County into two districts, Northern and Southern, due to the long routes from the southern part of Logan County to reach the county seat at Paris. After the law was passed, Paris became the county seat of the Northern District and an election was held between Booneville and Magazine for the Southern District county seat and Booneville won with 911 votes to Magazine's 591 votes. A courthouse was built in Booneville the same year in 1901.
Sheriff: George G. Dandridge, 1902-1904 (second time).
In 1903, the two-story stone jail built in 1886 in Paris was torn down and its stones were used to build the foundation of the next jail. The fourth county jail was built of brick, concrete, and steel on top of this foundation. It was a two-story brick building, 50 x 50 feet, with the first floor as the living quarters for the jailer and his family and the second floor as the housing for inmates. The second floor was an open room with steel cages in the middle creating a walkway around the interior walls. It cost $5,500.00 to build. This building still stands today and is currently the Logan County "Old Jail" Museum and is located at 202 North Vine Street.
| | |
| --- | --- |
| The building of the Logan County Jail in 1903. | The Logan County Jail built in 1903 and closed in 1971 is now a museum. |
Sheriffs: George Craven, 1904-1908 and Thomas Rogers, 1908-1910.
During Sheriff George Craven's term in office, Booneville Deputy Marshal James Leonard Holland was killed in the line of duty on Christmas Day in 1906. He was shot while attempting to arrest a drunk man. The man was later arrested, found insane and sentenced to the state hospital, and committed suicide by hanging himself in his cell.
Sheriff Thomas Rogers was a very interesting person. He was born in Dublin in northeastern Logan County and was a member of the first football team at the University of Arkansas. He married the daughter of Sheriff Dandridge, he served as a deputy sheriff and as Chief Deputy before he was elected Sheriff, he was a state representative and then a state senator, served our country in the Spanish-American War and in World War I, and was an attorney and served as the elected Prosecuting Attorney.
Sheriffs: John Lasater, 1910-1912 and Joel B. Cook, 1912-1916.
Sheriff Joel Cook served two terms as Sheriff and was Sheriff during one of Logan County's most historic moments. He was from Booneville and once served as the Booneville Town Marshal and the road overseer of Boone Township. During his first term in office in 1913, a 19-year old lady, Amanda Stephens, went missing from the Delaware area in eastern Logan County. During the time she was missing, Amanda's father swore out an arrest warrant for the "seduction" of his daughter by a local young man from the Delaware community, Arthur Tillman, who had been seen with his daughter. Arthur was found in Johnson County at his uncle's house and arrested. Since it was getting dark, he was kept under guard at the house and he escaped by knocking out the glass window of his room.
A few days later, the body of Amanda was found in a well beside an abandoned cabin near Delaware. It was determined that she died from a gunshot wound to the head and was killed inside the old cabin. Sheriff Cook swore out arrest warrants for three Tillman brothers (including Arthur) and a Tillman cousin since they had been seen often with Amanda. Two of the Tillman brothers and the Tillman cousin were arrested but later released due to alibis. This left Arthur who was still on the run from his "seduction" arrest and escape. Arthur was arrested in Fort Smith and transported to the county jail in Paris.
Arthur had three attorneys who moved for the murder trial to be moved to Booneville due to the notoriety of the case in the Paris area. It was granted and the trial was held in August 1913. Arthur testified at the trial and proclaimed his innocence. The jury was unable to come to a unanimous decision (11 for guilty and 1 for not guilty) and the judge declared a hung jury and a new trial was set in a few months. The second trial was held in November 1913 and Arthur proclaimed his innocence again but he was found guilty and was sentenced to death by hanging.
Arthur was to be hanged in Paris but Sheriff Cook did not want to keep him at the county jail in Paris due to fear of mob violence so arrangements were made to house him at the state penitentiary in Little Rock. Sheriff Cook and Deputy S.H. Kincannon transported Arthur by train and when the train slowed down as they reached the train depot in Perry on the way to Little Rock, Arthur jumped up, dashed through a string of train coaches, and ran out of the rear door and into the woods. He was found 10 hours later and transported to Little Rock.
Arthur appealed his conviction to the Arkansas Supreme Court and his appeal was denied. Next, he made an appeal to Arkansas Governor George Washington Hays to commute the sentence to imprisonment in the state penitentiary. Governor Hays denied the request and sentenced Arthur to hang on July 15, 1914. Before his hanging, Arthur made a third attempt to escape. Sheriff Cook and several deputies went to Little Rock and picked him up from the state penitentiary to bring him to Paris to be hanged. During the return journey by train, Arthur claimed he was sick so they shackled his arms and legs and put him on a cot in the baggage coach. He got up and jumped out of the moving train. Sheriff Cook grabbed him by his clothes and Arthur dangled from the speeding train until one of Sheriff's Cooks' deputies helped him haul Arthur back in. Arthur would have been killed from the fall if he had made it out.
The law of Arkansas in force at the time of Amanda Stevens' murder on March 10, 1913, allowed death by hanging in the county where the murder was committed. By the time of Arthur's sentencing after the trial in late 1913, the law changed to death by electric chair at the state penitentiary in Little Rock. Despite this law change, Arthur still received execution by hanging since the date of the murder set the time for what method of execution to use. So, the hanging of Arthur Tillman was the last legal hanging in the State of Arkansas.
For the hanging, scaffolding and gallows were built beside the county jail at 202 Vine Street in Paris. A crowd gathered at the gallows and Arthur proclaimed his innocence from the front porch of the county jail. State militia, led by former Sheriff Thomas Rogers who was a major in the National Guard, was called in to maintain peace. An enclosure was built around the gallows and Sheriff Cook was authorized by law to have 25 people witness the hanging. Sheriff Cook then pulled the lever and Arthur was executed. He was buried in the Graves Cemetery in Delaware in an unmarked grave to prevent people from tampering with his grave.
Presently, if you go by the Logan County "Old Jail" Museum which was the county jail Arthur was housed in and hung at, you can see a replica of the gallows built beside the old county jail. The story of Arthur Tillman was found in the Spring 1992 edition of the Logan County Historical Society's Wagon Wheels magazine, Vol. 12, No. 1.
Sheriff: Adrian "Manese" Hardwick, 1916-1921.
Sheriff Manese Hardwick was born on his family's farm near Dublin in northeastern Logan County. In addition to being Sheriff, he managed the large Quail plantation in Roseville and an oil plant, a cheese factory, and the Paris ice plant and cotton gin. His older brother, Dillard D. Hardwick, had ran for Sheriff and won in 1896 but died before being sworn in. Sheriff Manese Hardwick's son, Douglas "Doug" Hardwick, served as a deputy sheriff under him and was later elected Sheriff in 1929. Doug went to business college in Springfield, Missouri, and was a merchant in Roseville, a farmer, and a bookkeeper and weigher for a local coal mining company. He died while in office as Sheriff.
Sheriffs: B. B. "Buck" Foster, 1921-1925; S. H. Kincannon, 1925-1928; George Douglas "Doug" Hardwick, 1929-1930; William "Bill" Carolan, 1931-1932 (first time); Mont Perrymore, 1933-1938; and William "Bill" Carolan, 1939-1942 (second time).
Sheriff Bill Carolan served a total of 29 years as Sheriff and as a deputy sheriff for Logan County. He was appointed Sheriff for the unexpired term of Sheriff Doug Hardwick in after he passed away and Sheriff Carolan served until 1932. In 1931, Sheriff Carolan led the investigation in the murder of Paris Constable Mont Creekmore. Constable Creekmore was shot as he and a deputy sheriff were investigating a stranger who had come to town and was carrying two guns. They found the stranger at a gas station and as Constable Creekmore walked toward the stranger's car, the stranger shot him twice in the chest killing him. Sheriff Carolan formed a posse of over one hundred men and started a search. The man was found by two deputies in the Rock Island Café at the train depot in Booneville. The man went for his gun and was shot and killed inside the café by the deputies. He then served as a deputy under Sheriff Mont Perrymore. In 1938, he was elected as the Sheriff again and served until 1942. He also served as a deputy sheriff under Sheriff Pete Carter and Sheriff Van Pennington. Bill was elected as a state senator in 1944 while serving as a deputy sheriff.
The Carolan family has a long history in southern Logan County. Sheriff Carolan was a co-owner of his family general store along with his father and grandfather in the Carolan community south of Booneville and he was also a bookkeeper at the Bank of Booneville.
Sheriffs: Pete Carter, 1943-1954 (first time); Van Pennington, 1955-1960; and Pete Carter, 1961-1968 (second time).
Sheriff Pete Carter is Logan County's longest serving Sheriff serving a total of 20 years in the elected office. He was born in New Blaine but lived in several areas throughout the county. He started work in a Paris area coal mine at 19-years old and worked 15 years as a coal miner before being elected as Sheriff. He was Sheriff when an airplane crashed into the east side of Mt. Magazine in 1948 and all seven men aboard were killed and their bodies scattered over an area of 300 yards. Sheriff Carter was known by his hat which he wore almost everywhere.
Sheriff: Raymond Henson, 1969-72.
Sheriff Raymond Henson was the last Sheriff to hold prisoners in the fourth county jail, which was built in 1903, opened in 1904, and lasted until 1971! Sheriff Henson was having problems with prisoners setting newspapers and reading materials on fire and throwing them down the stairway into the jail entrance below. This stairway was the only way out for the prisoners. Sheriff Henson requested the State Fire Marshal to come over from Little Rock and inspect the jail and recommend a way to make the building safe. The Fire Marshall inspected the jail, declared it unsafe, and closed it! The jail building still stands to this day and is called the Logan County "Old Jail" Museum and has exhibits all about the history of Logan County. After the county jail was closed down in 1971, the Sheriff used the city jail in Paris (which is still in existence but not used anymore and is located under the Paris City Hall building). The Sheriff's Office also used the old city jail in Booneville and the old Franklin County Jail in Ozark.
Sheriff Henson also dealt with a very bizarre murder investigation that is unsolved to this day. In 1970, a couple from Paris found the severed torso of a man on the south side of Mt. Magazine in Logan County. The "stump" of the man, as it was described, had the arms, legs, and head cut off and removed and only the "stump" was found. No other body parts were found with the torso. A search began with over three hundred volunteers. They found plastic bags, one with human hair and blood, and others with pieces of flesh in them and the bags looked as if wild animals had gotten into them. There was a report that a dog was seen twelve miles east of Paris with a human arm in its mouth and Sheriff Henson and Arkansas State Trooper Ed Wolfe investigated but did not find anything. No body parts were ever found. The Sheriff's Office also received a call from Paramount, California, that a torso was found in their city but it proved to be unrelated. The torso found on Mt. Magazine was buried in Paris. That same year, the torso was thought to belong to a missing man in the Little Rock area so the torso was dug up and sent to Little Rock. The blood type did not match up but the torso was not returned to Paris. To this day, it is unknown as to who the torso belonged to, how it came to Mt. Magazine, and what happened with the torso after it went to Little Rock.
Sheriffs: Rufus Nichols, 1973-1976; William "Dub" Hamilton, 1977-1982; and Bill Kimbriel, 1983-1992.
During Sheriff Dub Hamilton's term, Paul Ruiz and Earl Van Denton escaped from a prison work crew in 1977 near McAlester, Oklahoma, and went on a multi-state crime spree. Both were serving life sentences in prison. In Oklahoma and Louisiana, four men were murdered and the Ruiz and Van Denton were suspected in those murders. After leaving Louisiana, the escapees made their way into Arkansas. They drove a stolen car and had a flat tire near Magazine. Magazine Town Marshal Marvin Ritchie heard about some strangers with a flat tire so he drove out to assist them. Ruiz and Van Denton then kidnapped Marshal Ritchie, handcuffed him and put him in the back seat of his own patrol car, and stole the patrol car. They drove through Magazine to Blue Mountain and then to the Ashley Creek Recreation Area south of Blue Mountain on the banks of Blue Mountain Lake. Ruiz and Denton then stopped a U.S. Corps of Engineers truck with Rangers David Small and Opal James in it and kidnapped the rangers as well. They drove the stolen Magazine patrol car into the woods and put Marshal Ritchie and Ranger Small in the trunk. They shot Marshal Ritchie killing him and shot Ranger Small in the chest. Ruiz and Van Denton then drove off in the Corp of Engineers truck with Ranger James as a hostage. The Magazine patrol car was found five hours later and Ranger Small was rescued. Ruiz and Van Denton headed south, killed Ranger James, stole another truck and headed back to Oklahoma where they killed a cab driver and stole his car. They drove the cab to Oregon and were captured after requesting a money transfer from a relative in Oklahoma who notified the police. Ruiz and Van Denton were extradited to Arkansas, a jury trial was conducted in 1978 in Booneville on capital murder charges, and the jury recommended the death penalty. There was an appeal, a new trial in 1983, another appeal, and ultimately, they were both executed in the Arkansas Department of Corrections Cummins Unit in 1997.
In 1989, Sheriff Bill Kimbriel saw a need for a county jail to be built. Logan County had not had a county jail since 1971 and for 18 years, the Sheriff's Office housed prisoners in the Paris and Booneville City Jails while others were transported to the Franklin County Jail in Ozark. At the time, the Sheriff's Office in Paris was located in the basement of the courthouse. The Logan County Quorum Court appropriated the funds and a new Sheriff's Office and Detention Center was built at 508 West Grober Street in Paris in 1989. When it first opened, it had offices for the Sheriff and his deputies, a dispatch center, an office for the Paris Police Chief, and an attached garage in the back for two small ambulances. Soon after it was built, the police chief moved out and a metal building was built behind the facility to house the ambulances and the crews. The Sheriff's Office then took over the space formerly reserved to the police chief and the ambulances. Eventually, the ambulance crew moved to their own facility built on East Main Street in Paris.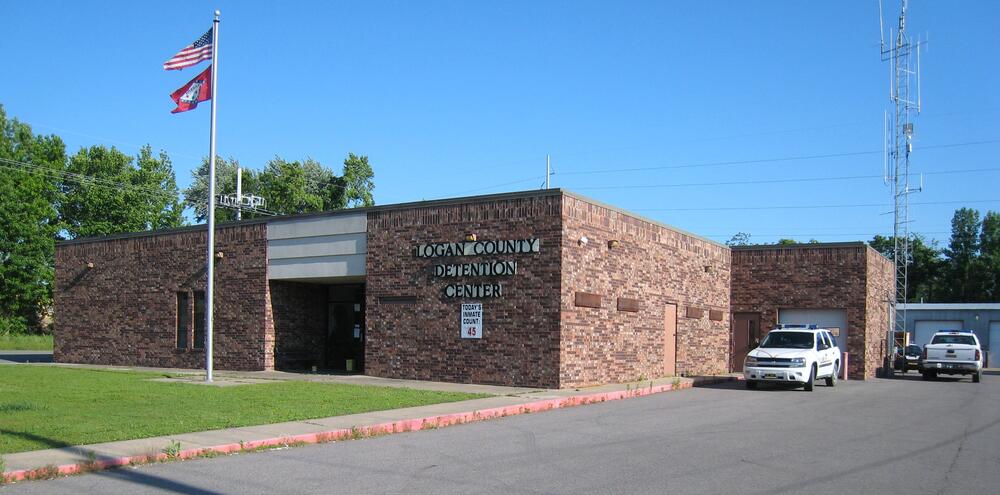 This building at 508 West Grober Street served as the Logan County Sheriff's Office and Detention Center from 1989 to 2019. It now serves as the administrative offices for the Logan County Emergency Medical Services, an ambulance crew station, and an office for the 911 Director.
Sheriffs: Ray Gack, 1993-2000; Mark Limbird, 2001-2006; Steve Smith, 2007-2014; Boyd Hicks, 2015-2018; and Jason Massey, 2019-present.
Towards the end of Sheriff Mark Limbird's term, the Sheriff's Office Southern District office in the courthouse in Booneville was moved to their present location at the old Health Department building at 461 East Fifth Street in Booneville. We share this building with the Southern District Court Clerk's Office.
After Sheriff Boyd Hicks took office in 2015, he saw a need in replacing the Logan County Sheriff's Office and Detention Center on Grober Street in Paris. The Sheriff's Office was too small and outdated for the needs of the deputies and the Detention Center was built to house 33 inmates and often times the population exceeded 50 inmates. The Detention portion was outdated, had black mold, and was not built for modern day jail standards regulations.
Sheriff Hicks teamed up with County Judge Ray Gack, who is a former Sheriff, and they campaigned for a tax to build and operate a new facility. The tax passed overwhelmingly and a $12 million dollar, 100-bed Sheriff's Office and Detention Center was built at 201 South Lowder Street in Paris. The land is county-owned land with the Northern District Road Department already housed at this location. Sheriff Hicks retired and the facility was completed and opened during the first year of Sheriff Jason Massey's term. The new Logan County Sheriff's Office and Detention Center houses offices, interview rooms, and a squad room for the Sheriff's Office staff; the Ricky L. Lowe Training Room named after Rick Lowe who served as a deputy sheriff and a long-time U.S. Forest Service Law Enforcement Officer in Logan County; a state-of-the-art Dispatch Center; a courtroom; and a 100-bed Detention Center that is built for expansion in the future. The old Sheriff's Office and Detention Center at 508 West Grober Street now serves as the administrative office for Logan County Emergency Medical Services, a station for an ambulance crew, and an office for the 911 Director.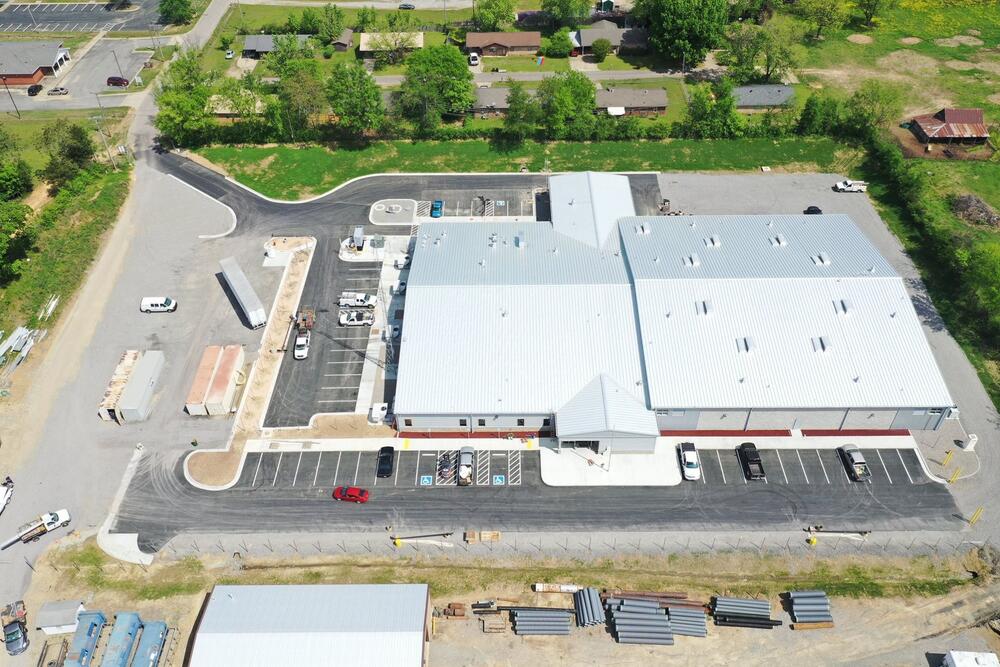 The current Logan County Sheriff's Office and Detention Center at 201 South Lowder Street before completion in 2019.