Criminal Investigation Division
The Criminal Investigation Division (C.I.D.) is the investigative arm of the Logan County Sheriff's Office and serves the citizens of Logan County by investigating potential criminal violations of the Arkansas Criminal Code Annotated and related crimes in a manner that fosters confidence in the judicial system and compliance with the law. The Criminal Investigation Division (C.I.D.) is supervised by Lieutenant Keith Lunsford and consists of Lt. Lunsford, a criminal investigator, a narcotics investigator, and a part-time criminal investigator.
Our investigators' duties include: processing and cataloging evidence at crime scenes, photographing crime scenes and evidence, preparing affidavits for arrest warrants and search warrants, and interviewing victims, witnesses, and suspects. They review and approve the Patrol deputies' reports and affidavits ensuring that all charges and the evidence supporting those charges are correct before the case file is forwarded to the Prosecuting Attorney's Office. C.I.D. also handles the follow-up investigations of criminal offenses; the development of information contributing to offense prevention; and victim assistance.
Lt. Kieth Lunsford, L.C. 3
| | |
| --- | --- |
| Narcotics Investigator Howard Bates, L.C. 7 | Investigator Jared Petz, L.C. 8 |
C.I.D. has at least one investigator designated as being "on-call" at all times, but all investigators can be called in to work major crime scenes when needed. The investigators are available Monday through Friday and can be contacted by dialing 479-963-3271, ext. 2.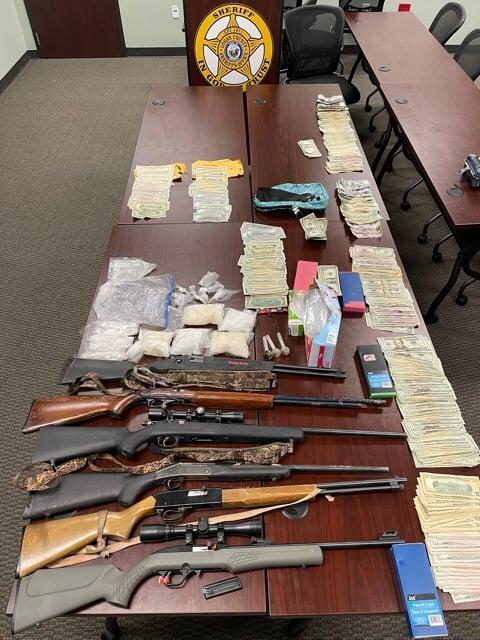 Three pounds of meth (approximate street value of $100,000), $16,000 in cash, guns, and drug paraphernalia from a drug bust in June 2021 with assistance from the Booneville Police Department and Drug Task Force.
Our narcotics investigator works closely with the Booneville, Paris and Magazine Police Departments, the 15th Judicial District Drug Task Force (which is a separate agency under the Prosecuting Attorney's Offense and their agents cover 4 counties), and state and federal authorities in sharing information and working on drug cases. This has led to the arrests of major drug dealers in Logan County.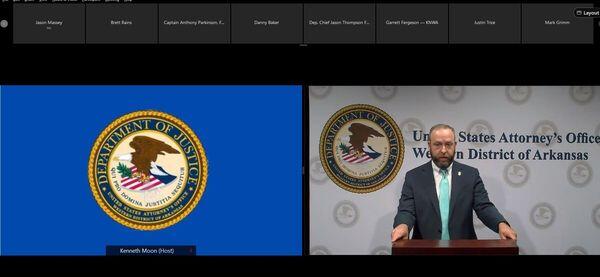 On November 10, 2021, Logan County Sheriff Jason W. Massey participated in a virtual press conference with the U.S. Attorney's Office in Fort Smith, the Federal Bureau of Investigation, the Drug Enforcement Administration, and several state and local law enforcement agencies in regards to our participation in a drug trafficking and money laundering investigation in the River Valley from September 2019 to September 2020. Twenty-two individuals were arrested and sentenced for a total of 206 years for this investigation.
In the Paris area, the Logan County Sheriff's Office and the Paris Police Department teamed together in the investigation of Benjamin Valdez. This investigation linked him with the federal investigation into a large, River Valley-based drug trafficking organization led by Manuel "Chuy" De Jesus Perez-Echeverria, which is linked to a major Mexican drug cartel. The result of this investigation led to federal drug delivery charges against Benjamin Valdez. He ultimately plead guilty to 12 counts of Distribution of Methamphetamines and was sentenced to 22 years in federal prison. There is no federal parolee so he will spending that amount of time in prison.